Most commonly used Types of Earthmoving Equipment
Date Posted: 18 December 2019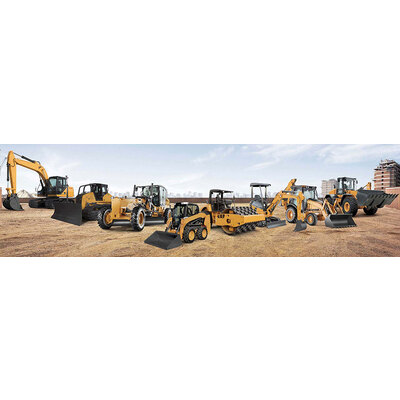 The definition of a piece of earth-moving equipment is rather simple: a piece of heavy equipment, usually heavy-duty vehicles, used in earthwork construction. This can range from excavators to bulldozers, and any other piece of machinery you often see on
When talking about a construction job of any size, you can guarantee that there will be heavy-duty equipment on site. Whether it's building a single house, constructing a whole development, or working on a large commercial project, earthmoving equipment is essential. Without this, builders would not be able to excavate the necessary soil and rock to make room for the structures and to install the foundations. These same earth-moving machines are also used for a variety of other jobs throughout the construction process, from digging, to demolition, transporting, carrying, and much more. Some things simply cannot be done by hand, so machinery is used to speed up the process and make impossible heavy lifting possible.
The definition of a piece of earth-moving equipment is rather simple: a piece of heavy equipment, usually heavy-duty vehicles, used in earthwork construction. This can range from excavators to bulldozers, and any other piece of machinery you often see on a construction site.
What machines are used in construction?
Tower Cranes

Dozers

Graders

Excavators

Backhoes

Compactors

Dump trucks

Pile driving machine

Screw Pile boring machine

Telehandlers

Trenchers

Track Loaders

Wheel Loaders

Wheel tractor scraper

Skid steer loader

Scrapers
And much more
What are the different types of earth-moving equipment?
While there is a vast array of earth-moving equipment out there, from your everyday vehicle to the most specialist equipment, let's take a look at the main types in use today:
1. Excavator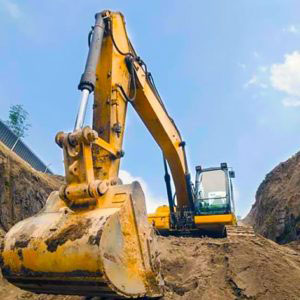 One of the most common and most essential pieces of equipment on any building site, the excavator does exactly what it says on the tin. The primary use is to remove soil and rocks from one location, before dumping it into another. The vehicle itself consists of six main parts, the tracks/wheels, a cab, a boom, a stick, a hydraulic arm, and an attachment, which is often a metal excavator bucket or scoop. The machine can move forwards and backwards on the tracks or wheels when necessary to reposition, while the main body can spin on a 360 degree axis. This allows the operator to dig and deposit in all directions, increasing efficiency. However, the excavator can also carry out a number of other tasks on a building side, including: mixing materials, cleaning up the site, laying pipes, demolition, landscaping, battering, benching, trench digging, loading, lifting, drilling holes with an Auger, cutting, boxing, breaking rocks, and more.
2. Wheel loader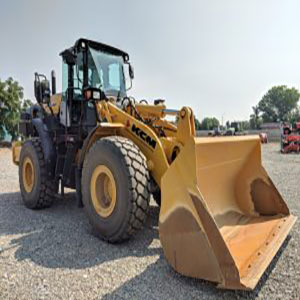 On a construction site, the act of moving heavy materials from one place to another is invaluable and essential. This is where the wheel loader comes into play. Fitted with a huge front bucket or scoop, the wheel loader is able to transport masses of dirt, rocks, or any other material from A to B. It can also load this same material into another vehicle for further transportation. The wheel loader is made up of four large wheels, a cab, booms, a hydraulic arm, and a large metal bucket. The same vehicle can also be adapted for different jobs by removing the bucket attachment and fitting something new, such as an auger, rippers, or scarifiers. Other uses of the wheel loader include: cleaning up the site, backfilling, cutting and boxing, stockpiling, material mixing, lifting, hole drilling, and stripping soil.
3. Backhoe loader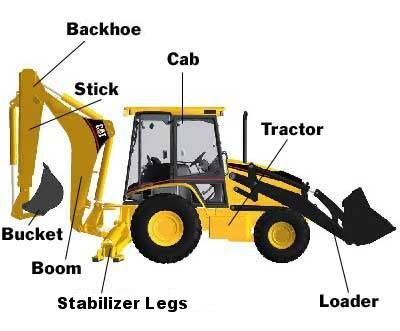 While we have looked at machines that excavate and machines that load already, the backhoe loader is a jack of all trades. It is fitted with a bucket at the front for loading, as well as a rear-mounted bucket for excavation. Much like the other machines, the backhoe loader can also have its buckets and loaders removed in place of additional attachments. The vehicle is made up of four wheels, legs for stabilising, a cab, a front-mounted bucket, a rear-mounted bucket, a boom, and a stick. The backhoe can also be used for: loading, material mixing, landscaping, battering, benching, cutting and boxing, backfilling, lifting, trenching, breaking rocks, and more.
4. Dozer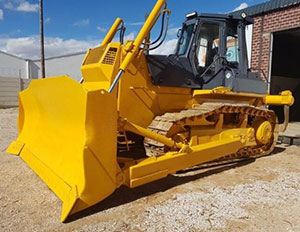 It doesn't come much more heavy-duty than the dozer, a machine capable of pushing immense amounts of dirt and rock with its huge front-mounted blade. This blade can be lifted and tilted to adapt to a number of different tasks and situations, with the perfect combination of the two needed for an effective job. This pushing technique is perfect for any jobs involving levelling and drain cutting, as well as the dozer acting as a good old battering ram. The self-propelled vehicle also features a ripper at the rear to break harder materials into smaller pieces. Advances in technology now see modern dozers with programmable controls, meaning that the operator simply has to input the desired grade, before letting the machine determine the perfect tilt and lift. The dozer can also be used for: towing, excavation in bulk, clearing land, ripping, cut and fill, benching, and much more.
5. Skid steer loader / Track Loader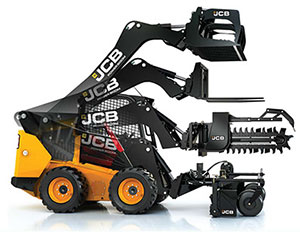 The skid steer loader is by far the smallest, most nimble, and most versatile piece of machinery on this list, hence why it is ideal for jobs in tighter spaces, such as private property works or smaller urban construction sites. The reason the skid steer loader is so versatile is that the front attachment can be switched out for a wide array of options, such as a 4 in 1 Bucket, rotary hoe, dozer blade, hammer, auger, chain trench digger, GP bucket, pallet forks, and much more. This vehicle can be used for the following: breaking rocks, cleaning up the site, material mixing, loading, excavating, battering, benching, stripping soil, loading, and much more.
6. Dump trucks
They have a very limited function, but they are essential for the vast majority of construction sites. After being loaded with material, the dump truck can easily transport large quantities from A to B, before dumping them in their final destination.
7. Trenchers
As the name suggests, trenchers are primarily used to dig trenches on a building site and acreage. It does this using a conveyor system in which the dirt was excavated and deposited on the ground alongside the trench.
8. Scrapers
Used to move dirt around a construction site with speed and ease, at home over a large area of land. This makes them perfect for digging and levelling on large sites.
Why Bunyip Equipment?
Bunyip Equipment has years of experience in the earth-moving equipment sector across Australia, specialising in attachments for construction and agriculture machinery, as well as spare parts and accessories. When it comes to construction work, time is money, and your reputation is always on the line. For that reason, it is of utmost importance that you have reliable and effective attachments for your earth-moving equipment. Bunyip Equipment offer the very best products and service in Australia, so get in touch today and make a smart investment into your earth-moving future.