Everything You Need to Know on How to Install an Auger Drive
Date Posted: 31 May 2022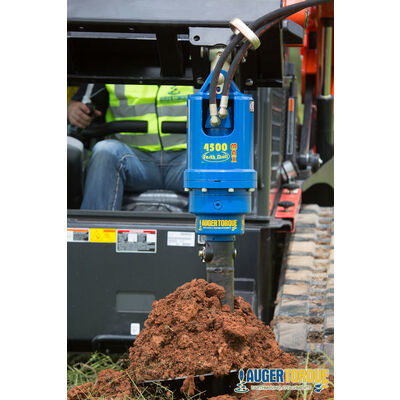 Faced with the task of installing an auger drive? Have no fear — it's easier than you think! To help you out, we've provided a comprehensive guide to selecting and installing an auger drive. The process is simple, but there are some things you should know before you get started.
What Is an Auger?
An auger is a spiral-shaped drilling device designed to dig holes into the ground, as well as other surfaces or materials. An auger is one of the most trusted earth-drilling tools on the market, with the ability to bore larger holes than your standard drill. These specialty tools have a metal helical blade or "flighting" that rotates to scrape, cut or syphon out drilled materials. The material removed from the hole then travels up the flighting and is transported out of the hole via the blade's rotation.
Augers are most often used to drill holes for things like solar posts, telephone poles and deck posts. They are designed primarily to make typical industrial jobs easier, so that labourers spend less time and effort on the drilling process. The auger also comes in several varieties to suit a range of applications. These include handheld augers for small home projects such as gardening; ice augers, whether gas or handheld, for drilling through ice while ice fishing; and wood augers for drilling into trees or wood, usually for the purposes of extracting maple syrup. Here in Australia, the earth auger is perhaps the most common and useful auger on the market.
What Is an Earth Auger?
Earth augers are specially designed to bore holes into the ground and carry the drilled material back up out of the ground like a screw conveyor. These tools vary in size and shape, and come with multiple attachments to suit different purposes. Large augers, for example, can be attached to machinery to drill oils and minerals. On the other hand, small handheld augers are perfect for speeding up everyday agricultural tasks, like digging holes for new fence posts.
Choosing the Best Earth Auger for You
There are several factors you should consider before choosing an earth auger. For instance, it is important to take your physical abilities and situation into account, as the tasks of drilling and digging can be very physically taxing. A powered auger is a better option if you have limited time, or if you tend to get sore arms or wrists. It is also better to go with a powered auger if the job you hope to accomplish is a big one.
If, on the other hand, you only require an auger for rare and small gardening tasks, a powered auger is probably unnecessary. A hand auger is likely going to be the best option for you in this circumstance.
Along with your situation and the type of tasks you wish to complete, you should also consider your price range before honing in on your final choice. For further guidance, ask yourself these questions:
What Type of Power Do I Want for My Auger?
As we've already mentioned, you will need to choose between manual and mechanical/engine-operated/powered varieties of auger. Manual models have scooping mechanisms but still require a fair amount of muscle behind them to really work. They are ideal for light-to-medium dig operations, such as extending irrigation trenches. For more substantial tasks, you'll need a mechanical auger — but there are many options to consider here, too.
Mechanical earth augers have either gas or electric engines powering them. Gas earth augers are excellent for breaking through various types of surfaces, such as clay and soil, and can even move hard-to-break rocks out of the way while digging. Electrical augers are similar but will not emit gas fumes while they operate. Both of these options are quite flexible, allowing you to change the blade width to suit different digging projects. If you're interested in the super-affordable option of a two-stroke engine, you should note that these are quite loud and require a high level of maintenance. Four-stroke engines produce less noise and are easier to operate though.
What Diameter Do You Require?
Some earth auger models allow users to change the diameter of the drill, which can be very useful. You can also get models with easy snap-on extensions that enable a more efficient change between different diameters. Keep in mind that the more power you require for the drill or the usage, the larger the diameter of the drill should be. Different tasks require different diameters, with a 3.8 cm (1.5 inch) diameter being perfect for soil sampling.
How Deep Do You Need to Dig?
When it comes to choosing an auger, you should consider the range of jobs you're planning to complete and how deep you're planning to dig. If you think you'll be going to various depths, perhaps choose an auger that allows you to easily switch drill bits. If you're embarking on a project that requires deep digging only, you'll likely need auger drives equipped with powerful engines and large or long auger drill bits. You can also explore auger drill bit extensions to get the depth you need.
What Is an Auger Drive?
Now that you're an auger aficionado, it's time to tackle auger drives. An auger drive is a drilling device that is attached to machinery such as excavators, skid steer loaders and tractors to complete various jobs.
How Do You Attach an Auger Drive?
Attaching an auger drive to a piece of machinery is fairly straightforward, although there are some safety hazards of which you should be aware. When using large augers that attach to substantial pieces of machinery such as tractors, be cautious of the spinning drill. It's crucial that you stay away from the augers while they're in use too. When you're hooking and unhooking them, it's important to be wary of the fact that they're extremely top heavy and can easily tip over.
Keeping these things in mind, you can attach an auger drive to machinery by following these general steps:
Put the main frame of the auger drive where the top link usually goes, snaking the main frame around your PTO shields to get it in place. Keep your pin handy and thread it through to secure the auger drive.
Attach the PTO shaft.
Hook up the three-point arm on the left side and then the right side (because the right side is adjustable).
Secure the stabilisers to keep the auger in place while driving. To secure, you will either have a sleeve with a pin or a turnbuckle — adjust these so that the auger doesn't move around.
This process may be slightly different depending on the machinery and auger drive you're working with, so make sure to consult the manufacturer's instructions.
Want to Know Where to Buy High-Quality Auger Drives?
At Bunyip Equipment, we pride ourselves on giving our customers sturdy and reliable auger drives, along with all manner of earth-moving equipment. Our experienced team are experts in everything to do with agricultural and trade machinery, and are enthusiastic to answer any questions you have on the topic. With a wealth of knowledge behind us, you can be confident that our auger drives are going to give you value for money. Reach out to us today or browse our website for high-quality auger drives and more!