How to use an Earth Auger
Date Posted: 9 December 2019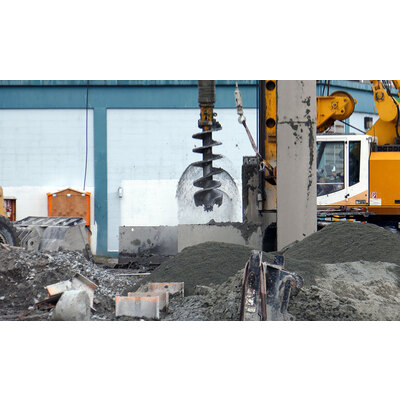 What is an earth auger?
An auger is a well-used drilling device, made up of a metal helical blade/auger flights that rotates as the auger is used. In the case of an earth auger, as the drill spins, it carries material up with it and displaces it away from the created hole. These kinds of earth augers can be turned by hand, an electric motor, or even attached to Earth Drill or auger drive and driven with a larger piece of machinery such as an excavator, skid steer loader and tractors.
Augers can also be used for other material such as wood or ice, although earth augers are by far the most common it terms of usage. The basic design of the auger hasn't changed since its first conception.
What are the common uses for an earth auger?
The earth auger was first used many years ago to assist with agriculture and it still carries out that same purpose now. Smaller handheld augers can be used in gardening if someone wants to create holes to plant, dig in fence posts, or anything else along those lines. However, augers now come in a variety of shapes and sizes, with many boasting multiple attachments for different jobs. For example, where as a post hole auger is utilised for securing posts.
However, earth augers are also used in far larger scale agriculture, such as earthmoving, farming. Augers fitted to Earthdrills and auger drives can be attached to heavy equipment such as excavators, skid steer loaders and tractors for efficient digging across a larger area. Not only this, but earth augers are now used as drilling equipment, penetrating the ground in search of things such as oil, water, or valuable materials. Used for Landscaping, Tree Planting, Foundation and screw piles. These larger earth augers are often powered with civil machinery and are ideal for effectively drilling through the ground.
Types of earth auger
Hand auger – These are the simplest of all the augers and are usually cheap, lightweight, portable, and simple to use. The vast majority of these will be used for smaller jobs that require less effort and power, such as gardening and digging small holes. Hand auger drill bits often range between four inches and eight inches.
One-man auger – These pack more of a punch than a hand auger as they are powered by an engine or battery. These one-man augers are best for deeper drilling or mass drilling, essentially jobs that your hands alone would not be able to realistically manage. These could beused to put up fences, posts, or to plant trees.
Two-man auger – Even more powerful still, the average two-man auger is powered by a 2-cycle or 4-cycle engine. As the name suggests, two-man augers require two people to operate them safely. These are best suited to mass digging and deep holes across a far wider space. The bigger the job, the bigger the auger needed.
Earthdrill / Auger Drive – Attached to machinery like an excavator, skid steer loader or tractor, from the smallest fencing job to major civil works this is the most commonly used by civil contractors, earthmoving operators, tradesmen and farmers.
How to use an earth auger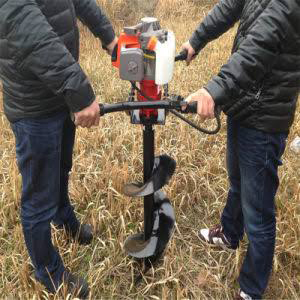 Wear the proper clothing – cover your body and keep hair and clothes away from the machine.

Wear safety goggles and ear protection if instructed within the manual.

Fill the tank with fuel if you are using a powered auger.

Select your chosen auger drill bit and attach it on a flat and

steady surface.

Select the area you want to dig.

Check that the ground underneath is safe. Avoid electrical wires,

water pipes, gas pipes, and rocky areas.

Position the drill above where you want to dig.

Start the engine.

Let the auger dig down without putting your body weight onto it.

If you feel resistance or a strange noise, switch the engine off.

After reaching your desired depth, turn off the engine.

Slowly withdraw the drill from the ground, but only once it has

stopped rotating.

Inspect the tool, clean it, and store it away for later use.
How deep can an auger drill?
The typical earth auger depth is around 900mm, although specific augers can come in far smaller sizes. If you are looking for a drill that can reach far deeper, then extensions or CFA (Continuous flight Augers) augers can be purchased, with some going down to 500 metres.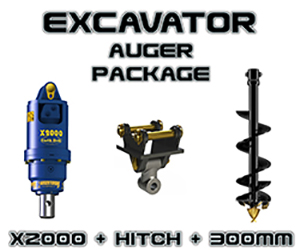 Choosing the best auger for you comes down to three main points, the job you will be using the auger on, your own personal situation, and your price range.
If you only plan on using your earth auger for rare and small tasks around the garden, then a hand auger is the best bet for you. Splashing out on something with an engine when all you need it for is planting some trees is a bit of a waste. However, if you are needing an auger to work on a large garden, farming project, construction, or anything else that requires a lot of post digging, then a powered auger is far more suitable.
However, if you are limited in what you can physically do around the garden, then you may look to invest in a powered auger even for the smaller jobs. If you are not able to spend hours bent over digging holes by hand, then a hand auger just isn't practical. When it comes to the make, model, and type of auger, research is needed.
Figure out how much you want to spend and the exact job you will be using it for, then have a shop around for a piece of kit that fits your needs.
Why should I buy my earth auger at Bunyip Equipment?
At Bunyip Equipment, we build our brand based on reliability, value for money, and information. We provide you with all the info you need to make a well-informed purchase, or, if you are still unsure, our dedicated team is always happy to answer any questions you may have. Every product stocked at Bunyip Equipment has passed our own personal tests and has the Bunyip approval.