Your Ultimate Guide for What You Need to Know About Auger Torque
Date Posted: 28 October 2022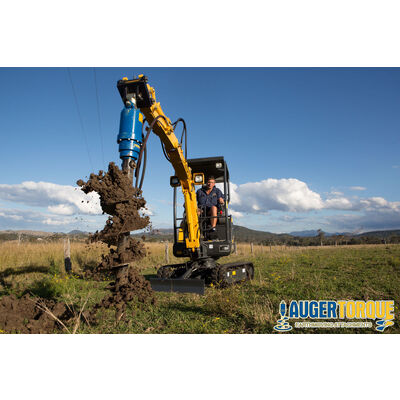 For any and all earth drilling activities, you need to use equipment you can trust, and one of the top brands that come to mind is Auger Torque. With some of the finest quality available on the market, Auger Torque not only offers you value for money but will also add a professional touch that ensures you get the job done efficiently and effectively. If you are looking to purchase some drilling products and need some insight on everything that Auger Torque has to offer, keep reading!
Who is Auger Torque?
Before getting into the several benefits of Auger Torque products, it's important to appreciate who they are and how they have contributed to the practice of earth drilling.
They started their humble beginnings in 1998, when the company was established in the UK. Since then, Auger Torque has set a new standard in the earth drill and drilling attachments market. The principle of their business back then, as well as today, is to ensure that the customer's needs are prioritised above all else. This is why Auger Torque strives to create an innovative range that provides unrivalled reliability and cost-effective operation in the long run.
In the year 2015, auger torque proudly became a part of the Kinshofer Group, allowing their brand image to skyrocket. Though Auger Torque operates as an independent brand, they are backed by a group range of attachments, as well as access to a global group of engineering and product experts.
As of 2020 up to present day, Auger Torque continues to work with their customers, operators and parent machine manufacturers in order to research, develop, manufacture and bring innovative earthmoving products to the market. With plenty of manufacturing bases located worldwide, Auger Torque strives to satisfy the demand for high-quality products in as many as 70 countries on all 7 continents.
It is no surprise then that, over time, Auger Torque has earned themselves a well-deserved reputation as one of the top earth moving attachment specialists and is known to be a global leader in the sector of auger research and development. They manufacture drilling and earth moving equipment for all sorts of applications. These applications include fencing, landscaping, screw pile installation, well boring, road signage, tree planting, foundation piles, sound barriers, pole installation, mast installation, ground source heat pumps and much more.
What Makes Auger Torque so Great?
Now that we know the rich history of Auger Torque and their valuable contributions to the industry, let's dig a little deeper into why they are some of the top dogs in the business. The hype around Auger Torque is completely justified because they don't just talk a big game; they deliver on their promises too. There are several reasons why you should choose Auger Torque for your next drilling project.
Offer Only the Finest Quality Available
Earth drilling is serious and stressful work which can really be difficult if you do not possess the right kind of equipment. Auger Torque's industry-grade hydraulic attachments are designed to improve efficiency through operational cost savings and productivity in earthmoving, construction and agriculture. They use only the highest grade of materials and the latest manufacturing techniques to ensure that all their earth drills and attachments are extremely robust and durable.
Have an Extensive Range Readily Available for Purchase
Depending on the kind of digging or drilling work you are doing, you may require highly specific machinery attachments. A reassuring fact is that not only does Auger Torque produce a wide range of drilling products, but they also do so in high volumes. This ensures that there is always stock readily available for purchase in the market. It's why you'll also find plenty of Auger Torque options at Bunyip Equipment.
Manufacture Exceptional Attachments That Are Durable, Outperform & Offer Great Value
When you are on a jobsite, you need to know the product you're using is appropriate for completing the job in the most effective and efficient way. Furthermore, when you invest in drilling products, you want to make sure the product lasts you a long time. It can be daunting to spend money on machinery for the sake of quality; it's why many find it more tempting to purchase cheaper equipment that usually fall into the low-grade category. However in the long run, cheaper equipment may be more susceptible to wear and tear, meaning that you might just end up spending more on replacement products as time goes by.
This risk is eliminated in the case of Auger Torque since not only do their products offer great value for money, but all their products are put through rigorous testing to make sure they are at the high-end in terms of performance and durability. The extensive Auger Torque range of products, which are exceedingly efficient, will not only increase your productivity but will also continue to function consistently over long periods of time and regular use. So when you purchase an Auger Torque, you know it is worth it.
How Bunyip Equipment Can Help You Experience the Awesomeness of Auger Torque
As an Australian family-owned and operated business, Bunyip Equipment has a long history and plenty of valuable experience in the earthmoving equipment industry. As industry professionals, we have long specialised in delivering a diverse range of agricultural machinery to professionals and DIY-enthusiasts across Australia. Our real-world experience on Aussie farms and sites has helped us learn what it takes for earthmoving equipment to handle tough soils, surfaces and conditions year after year. We particularly specialise in machinery attachments for construction and agricultural equipment. In addition to this, we also offer our valued customers a wide range of spare parts and accessories for all their activities.
When it comes to drilling equipment, Auger Torque products bring everything to the table and much more, which is why we at Bunyip Equipment ensure to always stock an abundant supply year-round. We pride ourselves on supplying the best of the best that Auger Torque has to offer. This is because, at Bunyip Equipment, we follow a simple rule: customer satisfaction above all else. We do everything in our power to ensure that we are always fully stocked and that you're never left unsatisfied. Furthermore, we come with years of experience and knowledge and are always ready to help our customers by offering advice to novice drillers on all our products.
With Bunyip Equipment, you can trust that you're getting nothing but the best, all at the most competitive prices in the market. This is what makes us your one-stop shop for all your agricultural and construction needs.
Shop Auger Torque at Bunyip Equipment Today!
For more information on Auger Torque earth drills and drives available at Bunyip Equipment, browse our wide and varied collection of products online via our website today! For further enquiries, contact us on 1800 286 947 or shoot us an email at sales@bunyipequipment.com.au. We are always here to help you. Happy drilling!